Crystal Blue's Dive Locker

Crystal blues dive locker is second to none. The pebble stone dive deck over looks the clear blue waters where the nearby islands can be seen or our stunning sunsets can be viewed.
The dive deck is covered to protect you and your gear from the intense tropical sunshine. The deck is organized by a hanging rack system to ensure that your gear is dry before you fly and can accommodate large groups in an organized fashion. Large rinse tanks for dive gear, showers, and separate camera rinse tanks all help to move things along quickly and efficiently.
Valet style diving has never been easier. Our crew will carry your gear from the office to the dive deck. Once your gear is set our crew will handle the rest. Loading and unloading the boats, tanks, cameras and anything else needed to make the dives complete.
The compressor room turns out Nitrox or regular air and always has tanks at the ready.
A map of the dive sites helps to familiarize our guests with respect to location, destination and dive sites.
Banca Boats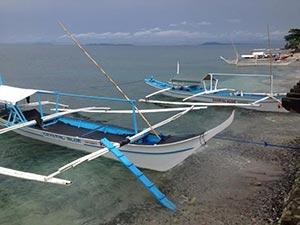 The duel outrigger style Banca boat is unique to the Philippines. Originally constructed for fishing in open ocean, the Banca offers the speed and agility needed to navigate the often unpredictable waters. This style of boat adapted easily to become dive boats and are now seen everywhere around Batangas providing their skilled services to dive resorts. The boats are a traditional wood hulled boat with small gas powered engines with enough torque to surf the swells and top end to conserve fuel on longer runs. CBR Recently added a third boat to our fleet that has been in full use since the day we christened her.