Meet Our Top-Notch Dive Guides
All dives are conducted as guided dives at Crystal Blue Resort and our sought after guides are the best in Anilao. Professionally trained to find critters, assist photographers and coordinate dive sites throughout the day and are trained to current PADI standards.
As part of your dive package you'll enjoy the assistance and amazing local knowledge of our guides. Our guest to guide ratios range from private guide hire to a maximum or four divers per boat. Keeping the lower ratios offers our guest a lot more flexibility on dive sites and bottom times.
Our well-trained dive crew will handle your tanks and gear efficiently and are especially conscientious when handling underwater cameras and gear.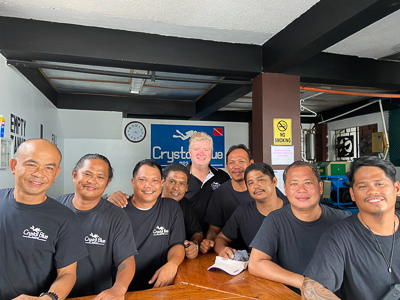 From Left to right Edgar, Jhomel, Paul, Pong, Mike, Kim, Jhomer, Glenn, Joben
Our Professional Dive Guides will assist you in finding that special critter
Crystal Blue Resorts Dive Locker Has Been Inspected, is Compliant and Approved